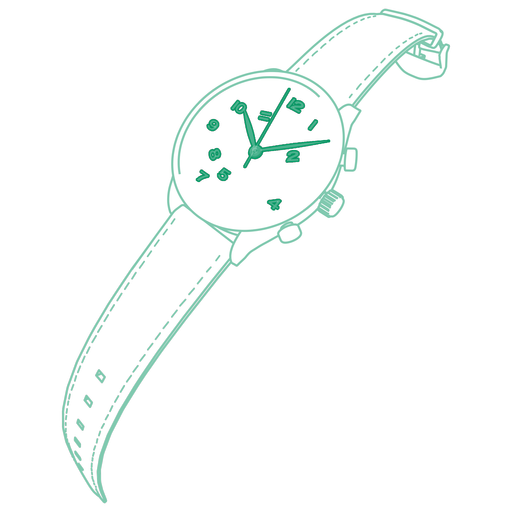 Dial Restoration
A watch's dial or face is the most visible part of the watch and therefore if it is damaged or discoloured – whether due to age, water damage, or a knock or drop – then it has a large impact on the watch's appearance. If a dial is very badly damaged, then for most modern watches the best solution is to replace the dial with a new one. However, for anything that is vintage or no longer in production, we are instead able to repair a damaged dial, or in some cases, restore a dial back to its original condition.
Quite commonly the markers, logo or numbers on a dial can become loose and fall out of their position. During a dial repair, we will reaffix these into place without leaving any evidence of the dial having been repaired. A dial restoration is a more specialised job that requires the dial to be dismantled and then slowly built back together, providing the original colour, finish and decoration to the dial.
First the dial markers or numbers are removed, and then then dial is rubbed down to its base metal colour. The dial is then given the correct finish and is coloured. The details such as any writing, or numbers are then printed onto the dial, if required parts can be hand painted. A lacquer is then applied in thin layers to preserve the colour and detailing. Once this has dried the dial markers are then refitted, along with any logo or window for the date.
Online Batteries
& Reseal
One-hour in-branch service
Convenient Lab locations
Guaranteed for 2 years
Our Approach
At The WATCH Lab we have many years of experience in repairing and performing dial restoration services on watches of many brands and styles. This experience gives our customers the confidence in us providing a top-quality service and ensures that their watch looks its absolute best at all times.
We treat each watch individually, with an independent assessment to address the level of damage and consequent restoration work required. We carefully remove the movement, hands and dial – before restoring each component to its original specification.
FAQs
Why would I need a Dial Restoration?
Dial restoration should be carried out when your watch dial is looking past its best. The dial may be discoloured through either age or water damage. There may be blemishes or scratches on the dial, which can be fixed up through a professional dial restoration service.
How long will it take to restore the dial of my watch?
This depends on exactly what is required and the exact design of the dial. The simplest dial repairs can be completed in-branch within an hour or so, however for a full-restoration of a rare dial type this may take up to 12 weeks as new printing plates will need to be created before the dial detail can be restored.
How often should the dial of my watch be restored?
Proactive care should be taken with all watches, as this will ensure a long lifespan and more lasting aesthetics. But you will know yourself when your watch is looking tired and in need of a little TLC.
How do I find my nearest Lab?
Simply visit our Labs page to find your nearest Lab. We operate in 20 locations, so you're sure to find a Lab within just a few miles of your location. If you are not in close proximity to a Lab, why not use our postal repair service.
Who will perform the work on my watch?
Dial restoration is a specialist job carried out by expertly trained watch technicians and watch makers. All our technicians are trained to the highest standards and have many years of experience restoring watch dials for high value watches and known brands.
Dial Restoration
Take a look at the steps we take to improve your watch during our Dial Restoration. All our technicians are expertly trained in Dial Restoration for many high end and popular brands.