Postal Watch Repair Service
The Watch Lab postal repair service is the quickest and most effective way to get time moving forward again on your damaged timepiece. Our friendly team of experts are on hand to assist you with your questions regardless of the problems you may be experiencing. For watch repairs by post, look no further than The Watch lab today. 
To get started straight away, simply fill out the form below, and one of our trusted technicians will be in touch within 24 hours upon receipt of your enquiry, to discuss your online watch repair (we can only replace the batteries on Swatch and Timex watches)
Watch repair near me - or not so near to me
Convenience is king and if you are too far away from our nationwide network of Watch Labs, or just don't have the time to pop in, then don't worry, watch repairs by post are a quick, safe, and hassle-free service that we offer here at The Watch Lab. For watches valued under £2500, you can use our online battery & reseal service, fully insured for peace of mind.
For watches valued in excess of £2500, or for watches requiring more complex work, you can use our postal watch repair service. To sign up to this service, please write a summary of the problems you have been having. Please include the watch brand, type, age and condition, so that we can work out the issue and make a no-obligation recommendation for you.
Our Postal Watch Repair Approach
Fill in the form above, providing as much information as you can. This allows us to be as accurate as possible regarding costs and timescales.

Once we have agreed on the job in hand, you need to post your watch to our head office

once you have received your pre-paid parcel. 

Upon receipt of your watch, we unpack it under a webcam to record the watch's condition.

We will assess your watch and confirm with you the scope of work that needs to be carried out, along with the costs and timescales.

Once the agreed work has been carried out, we will post your watch back to you.
Postal watch repairs FAQ
Will my watch be safe if I post it to you?
The Watch Lab uses Special Delivery from Royal Mail for the majority of battery replacements and repairs. This is the preferred postage for the whole of the jewellery trade and has proved to be extremely safe and reliable, and your watch is fully insured.
How do I know that The Watch Lab will carry out the work to the highest standard?
The Watch Lab employs highly experienced accredited watchmakers & technicians and all our work comes with a 2 year guarantee. With almost 20 years of experience and 20 UK key population sites, we have a large base of satisfied and loyal customers.
How long will it take until I receive a response to my enquiry?
Our WATCH Lab technicians will aim to respond to your enquiry within 24 hours. Please make sure you include a phone number and / or an email address so we can easily contact you.
If I send my watch by post, how long will it be until I get it back?
We say that it takes a maximum of 7 days to return a watch that has come in for battery replacement and resealing, although we usually do it in 5! For repairs and servicing, the problem can be more complex and we could be dependant on the turnaround times from specific brands. We will always quote expected timescales and costs up-front, once we have received your enquiry.
Who will perform the work on my watch?
Movement repair is a specialist job carried out by expertly trained technicians. All technicians are trained to the highest standards and have many years of experience repairing watch movements for high value watches and known brands.
Online watch repair steps
Take a look at the steps below to understand our approach when repairing or servicing your watch, via our postal watch repair service. All costs and timescales are agreed upfront, and we post your watch back to you after our work is done.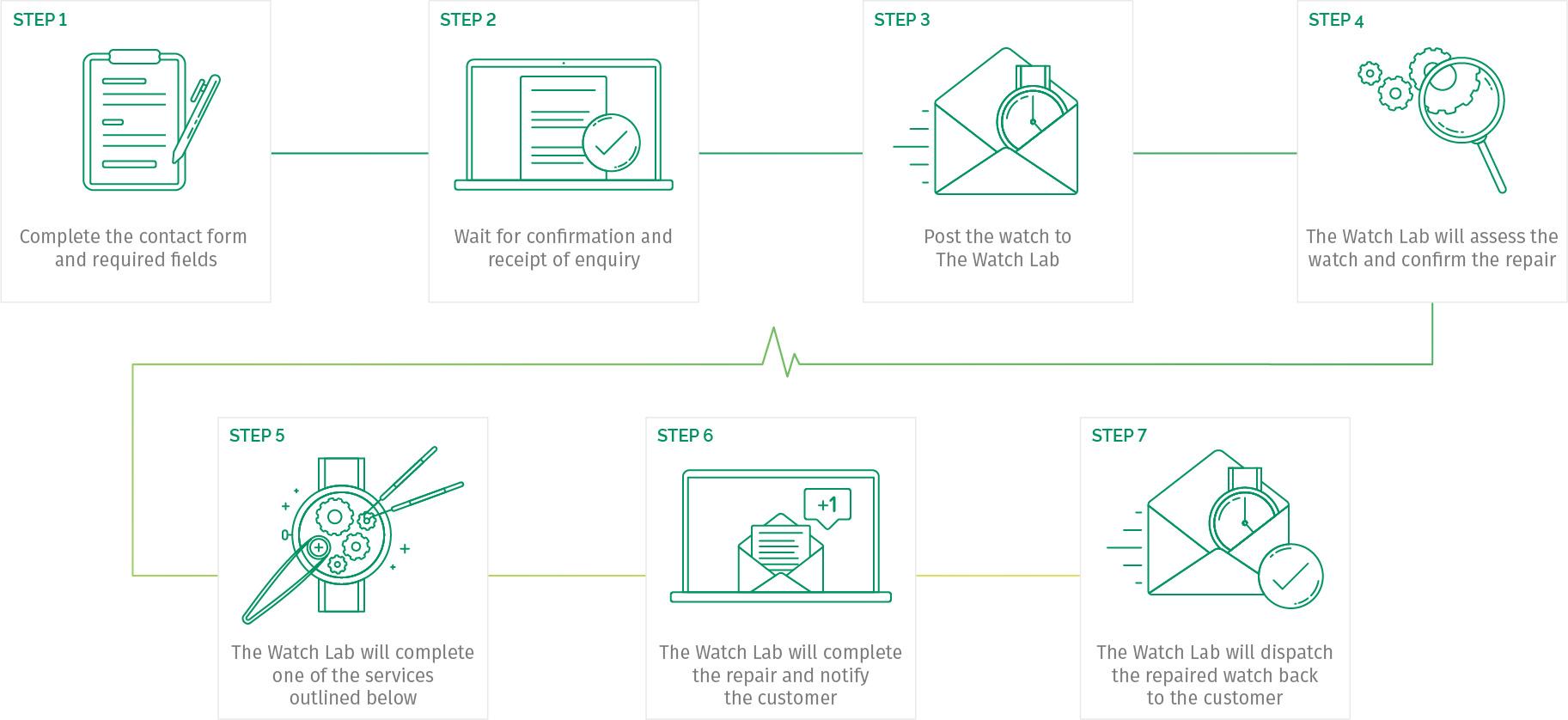 Receive a fully online watch repair service
When you sign up to our online watch repair service, you can either receive a Freepost parcel so you can package up your watch and drop at the local post office or you can arrange a paid collection service.
The paid collection service is arranged through Parcel Collect by Royal Mail Group Ltd, so please note that the charge for this would come from Royal Mail.
If our postal watch service sounds right up your street, enquire today and see how easy it is to get your watch repaired without having to step foot into a Lab!