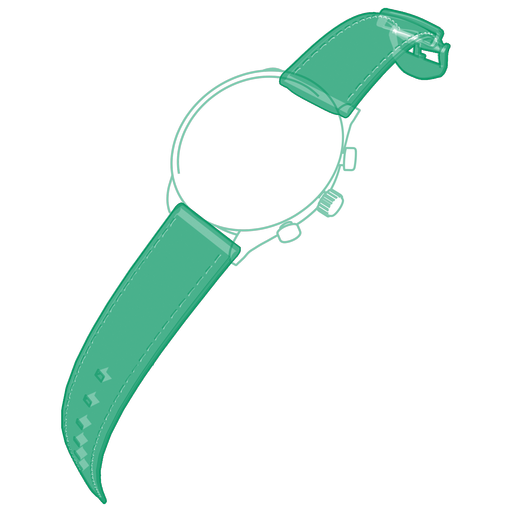 Strap and Bracelet Repair and Adjustment
Is your watch strap or bracelet worn or damaged? Does it no longer fit your wrist? Does the clasp no longer close properly? Or does the bracelet have scratches on it that you would like removed? Whether you want a replacement, repair or adjustment to your watch bracelet or strap your local The Watch Lab will be able to help. Each of our nationwide Labs have a range of high-quality leather straps in stock, and are able to help you choose a replacement from a catalogue of 100s of different styles, colours and sizes.
If your watch does not fit as well as it once did, then we will be able to either remove or add links into your bracelet, or add additional holes into your watch strap. Clasps can become strained and damaged over time, leaving them loosely fitting or unable to close correctly. We are able to carefully adjust your clasp to tighten it, or if not possible then we can offer a replacement new clasp. Through general wear and tear bracelets can become scratched and lose their original finish and shine.
However, most metals such as steel, gold or titanium can be refinished by expertly trained watchmakers to look like new. Across our network of 20 nationwide Labs, our friendly watch technicians are able to make adjustments and repairs to your watch bracelet or strap within 1-hour. For complex repairs then your watch can be sent to our main service centre where our qualified watchmakers are able to repair, adjust and refurbish your bracelet.
Online Batteries
& Reseal
2 Year Guarantee
7 Day Turnaround
Fully Insured Service
Our Approach
At The Watch Lab, we are avid believers in good quality watch repair and restoration. A wristwatch is an important and valuable investment, and the strap is arguably the most functional component of any watch. A good quality strap ensures comfort for the wearer, adds to the look and feel of the watch, and keeps the watch itself comfortably secured on the wearer's wrist.
Our watch technicians don't take this lightly. We are qualified in the repair and restoration of many types of watch strap or bracelet material. We work closely with many high-end watch brands and we understand their craftsmanship, which means we are in the best position possible to repair or replace any type of strap.
FAQs
Why would I need a watch strap or bracelet repair?
The strap of your watch comes under a lot of stress and strain through daily wear. Over time you may find that your leather strap has frayed, thinned, or stretched out of shape. Similarly, a bracelet may have seen some damage to the links, or could have snapped completely. Our specialist service will repair or replace the strap as required.
How long should the strap of my watch actually last?
As with all high value items, a good strap or bracelet can last a good number of years. But this depends on how the strap has been treated, the amount of daily wear, the conditions of wear, and the general treatment of the wearer.
Will it take long to repair or replace the strap of my watch?
We offer a 'while you wait' service, and your local Lab will have your watch strap repaired or replaced within the hour.
How do I find my nearest Lab?
Simply visit our Labs page to find your nearest Lab. We operate in 20 locations, so you're sure to find a Lab within just a few miles of your location. If you are not in close proximity to a Lab, why not use our postal repair service.
Who will perform the work on my watch?
Our watch technicians are trained to the highest standards and have many years of experience repairing all types and styles of watch straps and bracelets. Each piece is treated individually and the work is always carried out by a professional.
Strap and Bracelet Repair Steps
Take a look at the steps we take to improve your watch during our Strap and Bracelet Repair. All our technicians are expertly trained in Strap and Bracelet Repair for many high end and popular brands.