We clean ourselves daily and wash our outfits and shirts after one wear. Yet (let's face it), we are all guilty for neglecting our accessory items, cleaning them infrequently. But what is the correct way to clean your watch? The Watch Lab have provided a simple cleaning process, suitable for all watch brands and material types. By following this simple five-step method, it will help prolong the life of your watch and keep it in optimal condition.

How to clean watches?
Clasp, strap or bracelet, wooden, stainless-steel or silicone – there are endless materials that watch straps can be made from. With the wide range available, determining which cleaning process to use can be a difficult decision.
As many of us own watches way beyond the price of our clothing, it is understandable to be apprehensive cleaning your watch yourself. All of these excuses can lead to popping the watch-clean at the end of to-do-lists and can in-fact lead to a buildup of grime and dirt on the surface of your watch face and strap.

Whether or not you are a proud Omega, Tag Heuer, Micheal Kors or designer watch brand owner or own a high-street watch. Here at the Watch Lab, we have provided a simple step-by-step guide to watch cleaning, suitable for all brands and watch types.
The steps required to clean your watch
To make sure that all areas of the watch are cleaned, it is essential to clean both the watch face and strap. To clean these areas, make sure that you adhere to the following process:
Cleaning the watch face – Fill a dish of warm water and add a mild detergent (dish soap). Dip your cloth or a bristled toothbrush into the warm soapy water and gently brush over your watch face. There's no need to rub vigorously, but very gently to remove any dirt from the watch front.
Any crystals or markings? – simply work your cloth or brush around them.
Cleaning the watch band – If possible remove the watch bands before cleaning (for example if own a fitness watch). Cleaning the watch strap follows a similar process to cleaning the watch face. Simply fill a dish full of warm water, dampen your cloth ever so slightly and wipe down the watch band.
Strap particularly dirty? Simply add some dish soap to the water and follow the same process.
Gently dry the watch with a clean, dry cloth before re-fastening.
This process works for just about all watch brands and strap types. Although, it is worth a special mention that leather watches should not be exposed to moisture, as this causes the leather material to crack. So if you have a leather watch, you can use a dry cloth to remove any build-up of debris or moisture.
If you are unsure whether the above cleaning process is suitable for your watch, or if your watch deserves a professional clean. At The Watch Lab we have over 20 Kiosks situated across the UK, conveniently placed in popular shopping centres to deep clean your watch and prolonged watch life.
Watch valeting at the Watch Lab
As specialists in high-value watches, The Watch Lab can thoroughly clean your watch, returning your treasured item to look and feel like new. Our Valeting and Polishing Service can remove scratches and marks from designer watches and as high-end watches are crafted with intricate components, our Watch Lab technicians have the right expertise for the care and maintenance for your watch.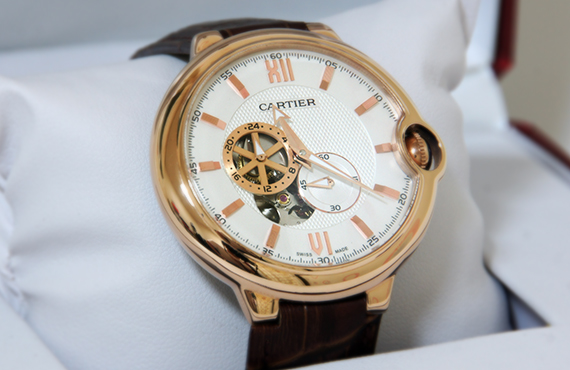 In our mini-valet, approximately one hour long, our technicians will perform comprehensive valeting of your watch and carry out ultrasonic cleaning to sanitise your watch, removing dirt and oxidisation. Our process will prolong your watch life-span and bring a new-lease-of life to your watch aesthetics.

For any vintage watches, specialist finished watches or watches desiring in need of restoration, if we can't carry out this procedure in one of our Labs, we can send your watch to our main service centre for specialist polishing and restore.
To give your watch a new lease of life, discover the brands we valet.